Adobe After Effects BTS in हिन्दी
Adobe after effects tutorials in Hindi
(NOTE: THIS VIDEO IS IN HINDI LANGUAGE)
Hello दोस्तो मैं RANA आपका स्वागत करता हू इस Adobe After Effects Basic Training series में जो की हिन्दी में हैं | यह course उन लोगो के लिए है जीनोने अभी-अभी After Effects में शुरुआत की है और इसे सीखना शुरू किया है तो यह course After Effects का complete package है जिसके पूरा होते ही आपको After Effects के बारे में हर तरा की जानकारी होगी | इस course के दौरान अगर आपके मन में कोई सवाल आता है तो आप मुझ से पूछ सकते है ( Adobe after effects tutorials in Hindi)
After Effects Basic Training series for beginners in Hindi
(Part 1 Intro)
Adobe after effects tutorials in Hindi for beginners (Part 2 Effects)
After Effects Basic Training series for beginners in Hindi (Part 3 ANIMATION)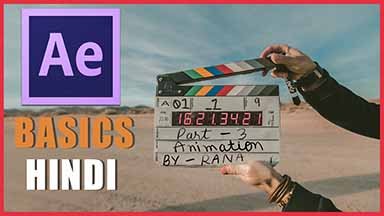 After Effects Basic Training series for beginners in Hindi (Part 4 Keying & Transparency)
After Effects Basic Training series for beginners in Hindi (Part 5 Motion Tracking )
What is motion tracking?
In the simplest language, motion tracking is the process of tracking an object's movement within a piece of footage. Once you've collected this tracking data from the selected area, you apply it to another element or object. The results of applying this data are that your element or object now matches your footage's movement. Essentially you can composite something into a scene that was never there; for a more detailed description of motion tracking, go to Adobe Help where they have all of that info for you. 
After Effects Basic Training series for beginners in Hindi
(Part 6 Time Remapping )
Time Remapping is a splendid feature.
Time remapping is a very useful feature, but you do not use it in every project you create. However, You can use this feature to speed up or slow down footage.
After Effects Basic Training series for beginners in Hindi (Part 7 Three-D Integration)
After Effects Basic Training series for beginners in Hindi (Part 8 Titles)