Sellvia Review: Everything You Need To Know [Pros and Cons]
In today's article, I will cover the sellvia review: Sellvia is one of the latest and best dropshipping suppliers. Sellvia is an eCommerce service in Irvine, California.
Sellvia is a phenomenal dropshipping solution that solves all your dropshipping needs. It offers two types of service: "done for you" or "done with you."
What is "Done For You"?
This service, sellvia offers you different dropshipping services; they offer you a Premium pre-build Custom Dropshipping store that you can install on your web hosting to get started. With this service, you will not only get your website design, but you will also get the pre-loaded product to sell.
What is "Done With You service"?
In this service, Sellvia offers you several services: Sellvia offers you the Alidropship plugin to build a dropshipping Website. Moreover, they offer you a Free sellvia subscription that you can install on your WordPress website. With these sellvia and Alidropship services, you can start your dropshipping business.
As an eCommerce entrepreneur, I have used several dropshipping services.
In This Post, I will share my personal experience, Sellvia's pros and cons, and my sale with one of my Sellvia dropshipping stores.
When It comes to dropshipping, special, you are a beginner in eCommerce platforms. It sounds fascinating when you think about the business idea, but real success comes from your supplier.
The supplier plays a vital role in Dropshipping Business.
Suppliers are responsible for product quality, shipping time, and, most importantly, your overall customer experience.
So make sure you need to know what you're doing when choosing the right supplier for your dropshipping business.
Only suppliers will determine your success in this business model, whether you like it or not.
So Let's dive into the Ultimate Guide of Sellvia Review.
What is Sellvia?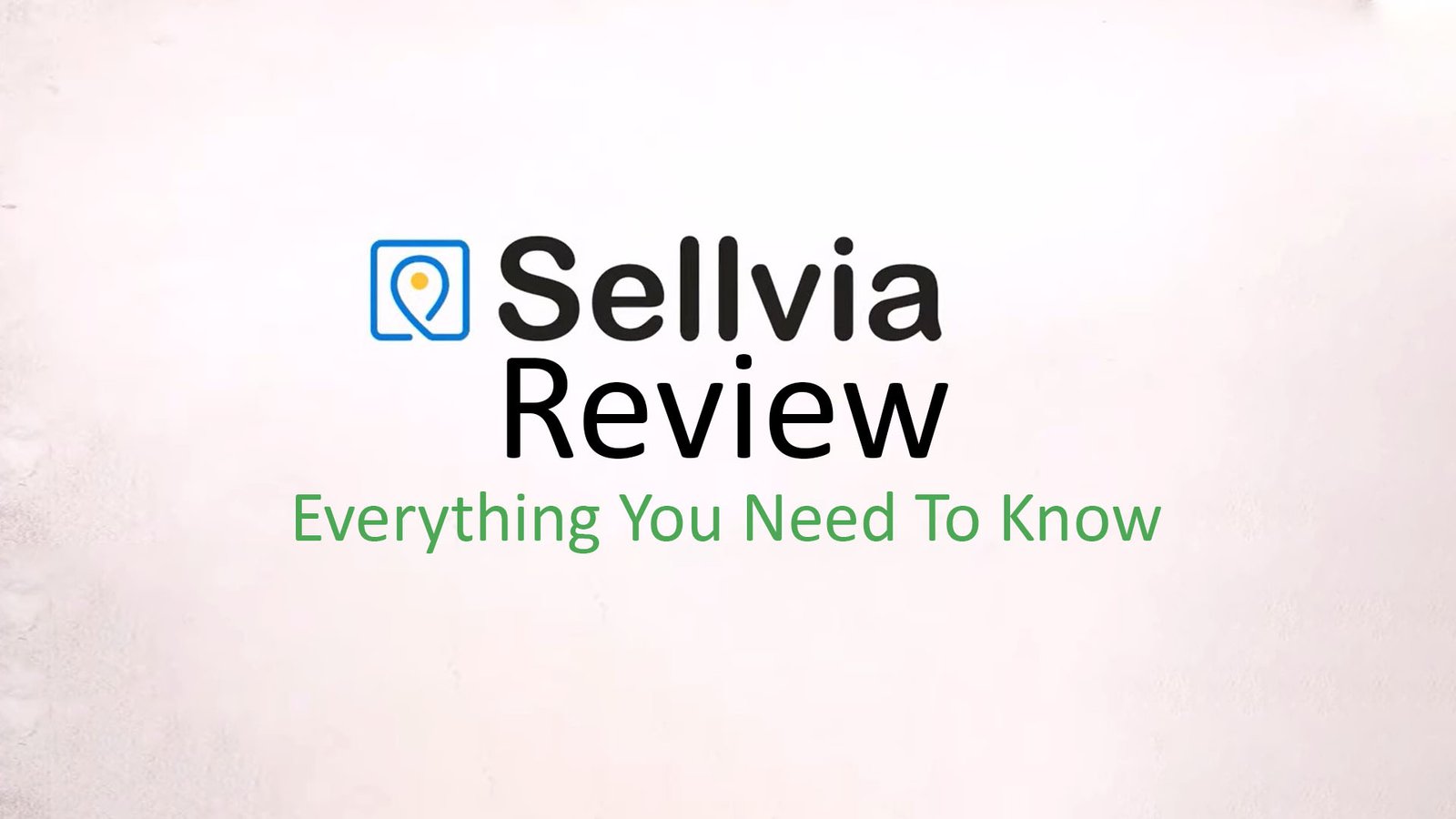 Sellvia is a program that claims to be an entire e-commerce ecosystem. It has everything you need to set up an eCommerce store, including dropshipping products throughout the US.
What makes it stand out is its Done-for-you and done-with-you method of operation. Sellvia is an eCommerce platform as well as an eCommerce supplier to US customers. US market.
In terms of the software, it is replacing Shopify (which serves as an eCommerce platform) and lets you create and manage your online store using their software.
It is also replacing Aliexpress, which was the first and the most used marketplace dropshippers utilize to source their merchandise.
If you're currently a dropshipper you dropship, it's likely it's because Aliexpress is your top supplier due to its vast catalogs of low-cost items.
But, one drawback to Aliexpress is how slow their shipping speeds are in they ship to the US as well as other countries.
Sellvia On the contrary is a product that operates within the US and delivers items across the US quicker than Aliexpress does.
This is the top-selling aspect of Sellvia, and when you think about how big and lucrative this US market has become, you'll know that it's worth it.
How Does Sellvia Work?
You can profit from Sellvia products in two distinct ways.
You can either subscribe to the Sellvia yearly 'Done-For-You' custom dropshipping store or get the Sellvia monthly subscription plugin to your existing WordPress/WooCommerce site.
By connecting either, you can link your shop to the Sellvia warehouse that is located within the US.
In other words, when your order is received you can quickly fulfill it through Sellvia and have it shipped within 1 – 3 days.
Let's discuss the TWO options available through sellvia. These include:
Sellvia's Monthly Subscription plug-in.

And the Yearly Subscription Ready-made Dropshipping Store.
Done With You service
Lets take a look at how you use this service.
#1.
Install Sellvia In WordPress
It is possible to download the Sellvia WordPress plugin can be downloaded upon signing up for their monthly subscription which is $39 per month.
After downloading the plugin you'll need to install the plugin on your site and begin making use of it to process orders directly through Sellvia. Sellvia website.
#2. Activate Sellvia with API Keys
Before you start using the plugin, you have to activate the plugin using your API key, You will find your API key in your sellvia's account.In there go to API Tab and click Create keys. Once You create you key then head over to WordPress dashboard and go to sellvia plugin and Copy past your key from sellvia.com into sellvia's WordPress Plugin.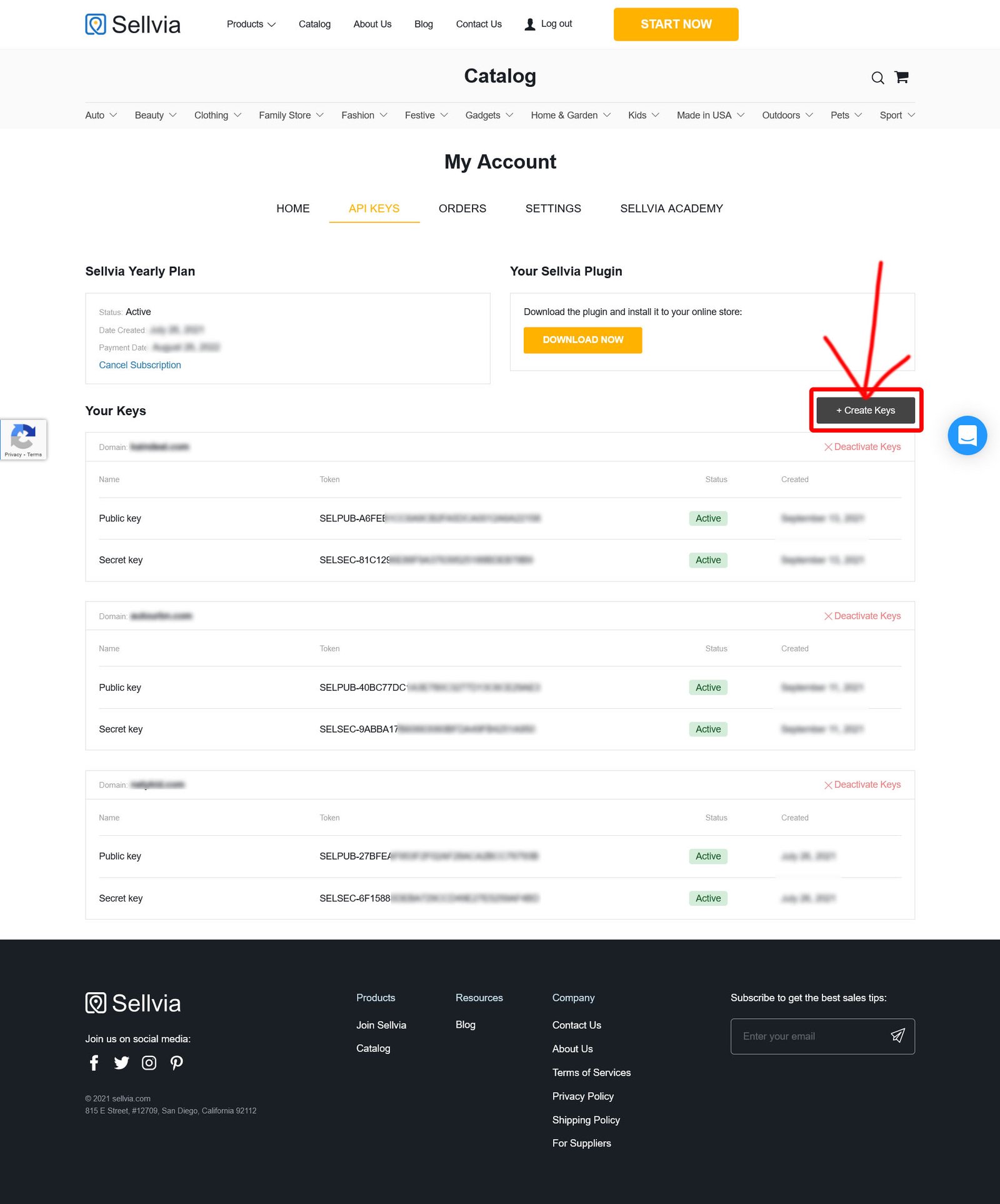 #4. Import Product From Sellvia
In order to import products head over under sellvia section on your website backend. You will find the products there. click to on import button to import the product of your choice. It is also possible to search in categories.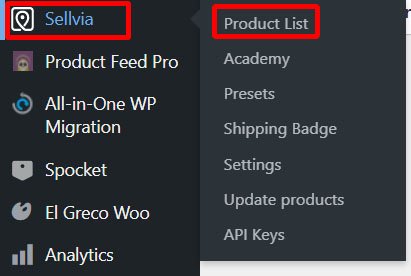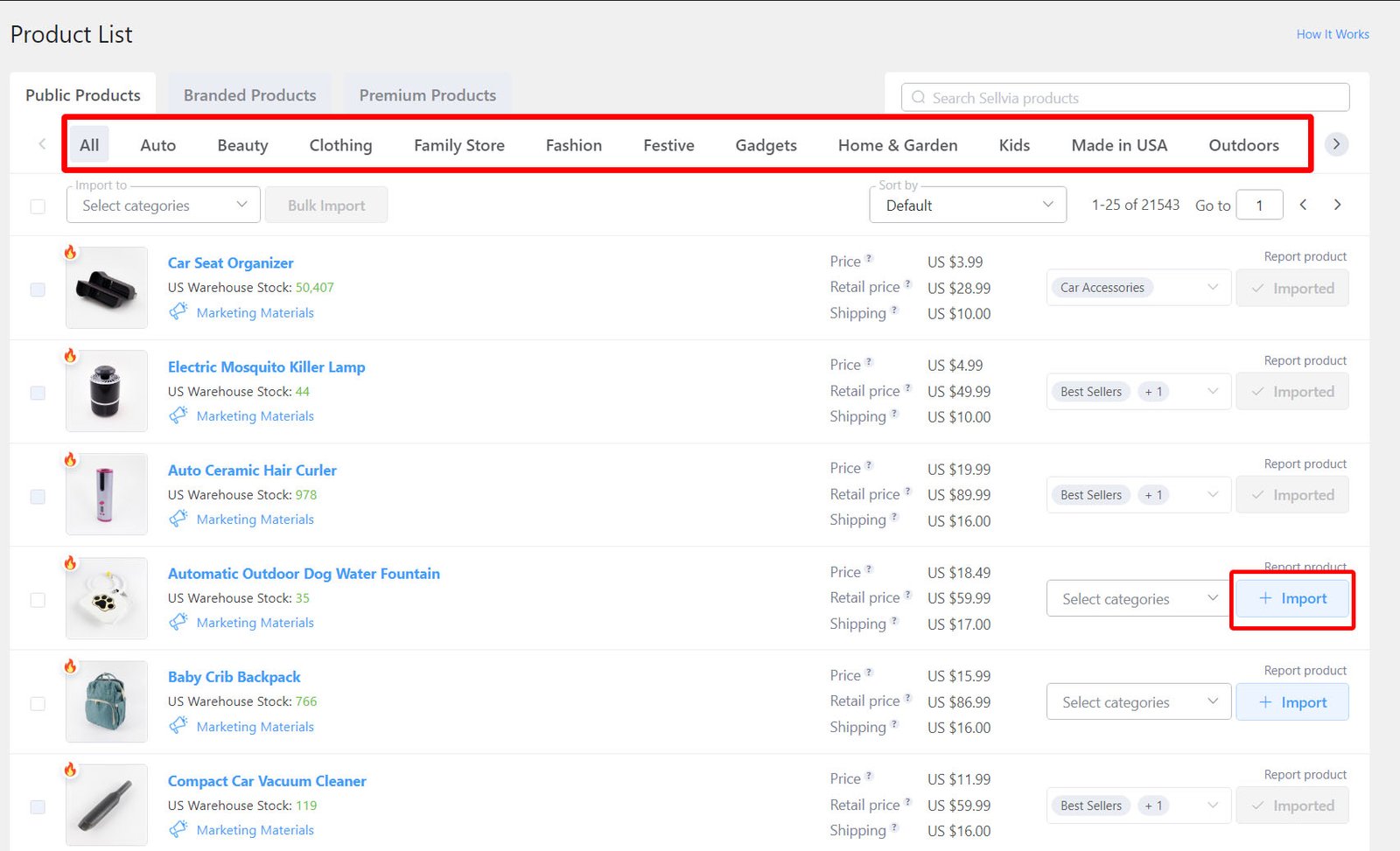 Good thing about sellvia is that, it can be accomplished with single click, even fulfilling the order as simple as importing the product.
However, you must know that the plugin is able to only take orders from the United States.
Any order made from outside of the United States is fulfilled through AliDropship the default plug-in through AliExpress "Place order automatically".
In order to fulfill the orders of Sellvia All you have to click on "Order from Sellvia" as you observe from the picture above.
Done For You service
Lets understand how this service works
Sellvia Custom Dropshipping Store
Unlike their plugin, the sellvia custom dropshipping shop is an all-inclusive store constructed from scratch, with the product included.
All you have to do is obtain the login details for accessing the store once it is created and begin selling. It also includes marketing tools that can help you in your efforts to market.
To get one of the custom-built Sellvia stores, you must complete a simple survey to make them aware of the kind of store you would like them to create for you.
This covers questions such as the type of store you're interested in and the domain name you'd like to use.
You can also pick the theme you'd like to use, which covers free and premium themes.
Additionally, there is an additional package to purchase products if you need to add more items to your store. The packages range from 100 products up to 1500 items.
Additionally, you can decide if you want them to manage the social media marketing on behalf of your dropshipping site.
After you've completed the questionnaire, it will take just one working day to ship the custom store.
Once done, you can connect your payment gateway and start selling immediately.
Sellvia Review: Features
Here are a few essential features that you will receive when you join Sellvia. It also explains what makes the platform unique, or what must be looking out for should you ever to make use of the platform.
#1. Sellvia integration
Sellvia offers an eCommerce platform that allows you to launch, host, run, and manage your eCommerce store on their platform. You can use sellvia with their eCommerce theme. That theme can use only in WordPress.
Sellvia offers Woocommerce integrations as well – However, you can also expand your WordPress functionality with third-party plugins.
Hence, using their e-commerce platform to enjoy their services is not compulsory.
Sellvia is also compatible with other e-commerce programs like Shopify. Everything you require to manage an efficient dropshipping website from start to finish.
In reality, they are currently integrating to WooCommerce (WordPress) but only for a limited time, while they are working on their Shopify integration is still a process in progress.
#2. One-click Import
Sellvia has a One-click import feature that allows you to import products into any of your stores. Sellvia can also import product descriptions and images into your store. As we mentioned previously, all of this can be done in a few clicks. Specify the category in which the product is to be imported to your website. You can import any amount you wish to your website at no additional cost. All it takes is a click.
#3. 1-3 Business days swift shipping
Sellvia offers 1-3 business days swift shipping. you will be able to ship products across the united states of America within one or three business days, and sallvia does not include any identifier in or on their product packages which is awesome.
This keeps your brand safe and ensures that your business remains in first contact with consumers; remember this wherever you live, you can always ship products across the united states with salvia, so what it means for you are a trouble-free, happy customer and repeated purchase awesome, right?
#4. Product Price Lower then Aliexpress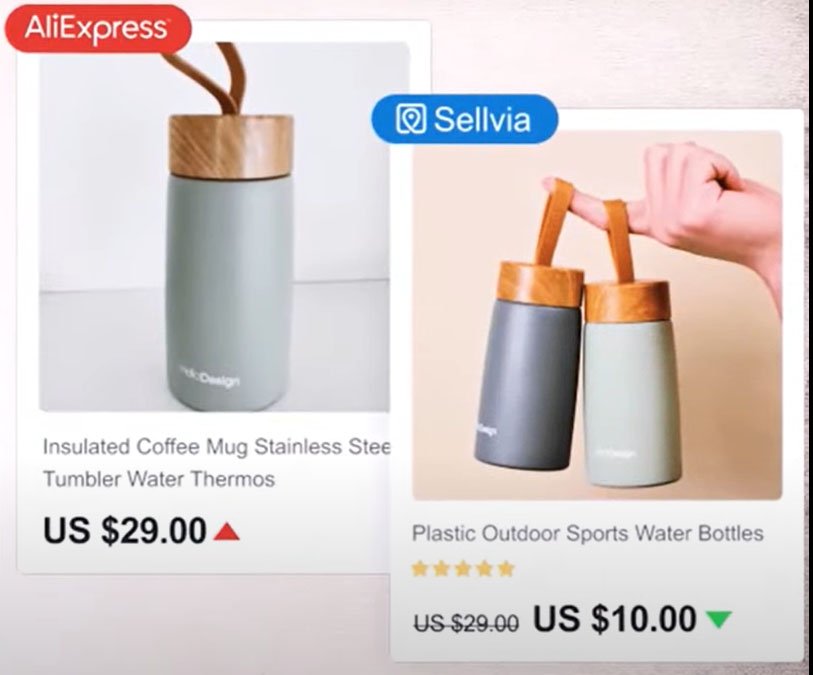 When your customer buys something from your store, you reorder that item from salvia at an attractive price. Your store price will be lower than those aliexpress suppliers, which is incredible but true.
#5. Only Winning Product in stock
Every item in your store will be on top of the latest trend, and you will get a stellar product page next. When you import products in your store, you're not importing products from aliexpress. You're importing products from salvia with a splendid product page with top-notch photos, videos, compelling descriptions, and real customer reviews.
#6. Fast shipping badges
Sellvia Review
You can attract more people by enabling salvia's shipping batches on your product page. With this smart tool, you can increase your profit up to 45%.
You have the option of purchasing the Fast Shipping Badge.
Activate FAST Shipping Badge

This option allows you to activate or deactivate the shipping badge. It becomes visible to US customers once activated.

Processing time

– Sellvia lets you add processing times to products. Your customers will know the processing time it takes to process their orders.

Orders Due By –

This option lets you give your customers an estimated delivery date.
Sellvia Review
#7. Import Customer Reviews
Sellvia Review
The unique buyer reviews included with every product in the Sellvia catalog are very interesting. SEO-friendly titles and clear product descriptions, and high-quality product images are included with each product.
Technically, you don't have to do anything once you import any product to your shop; reviews can also be imported.
#8. Ready to use Ad campaign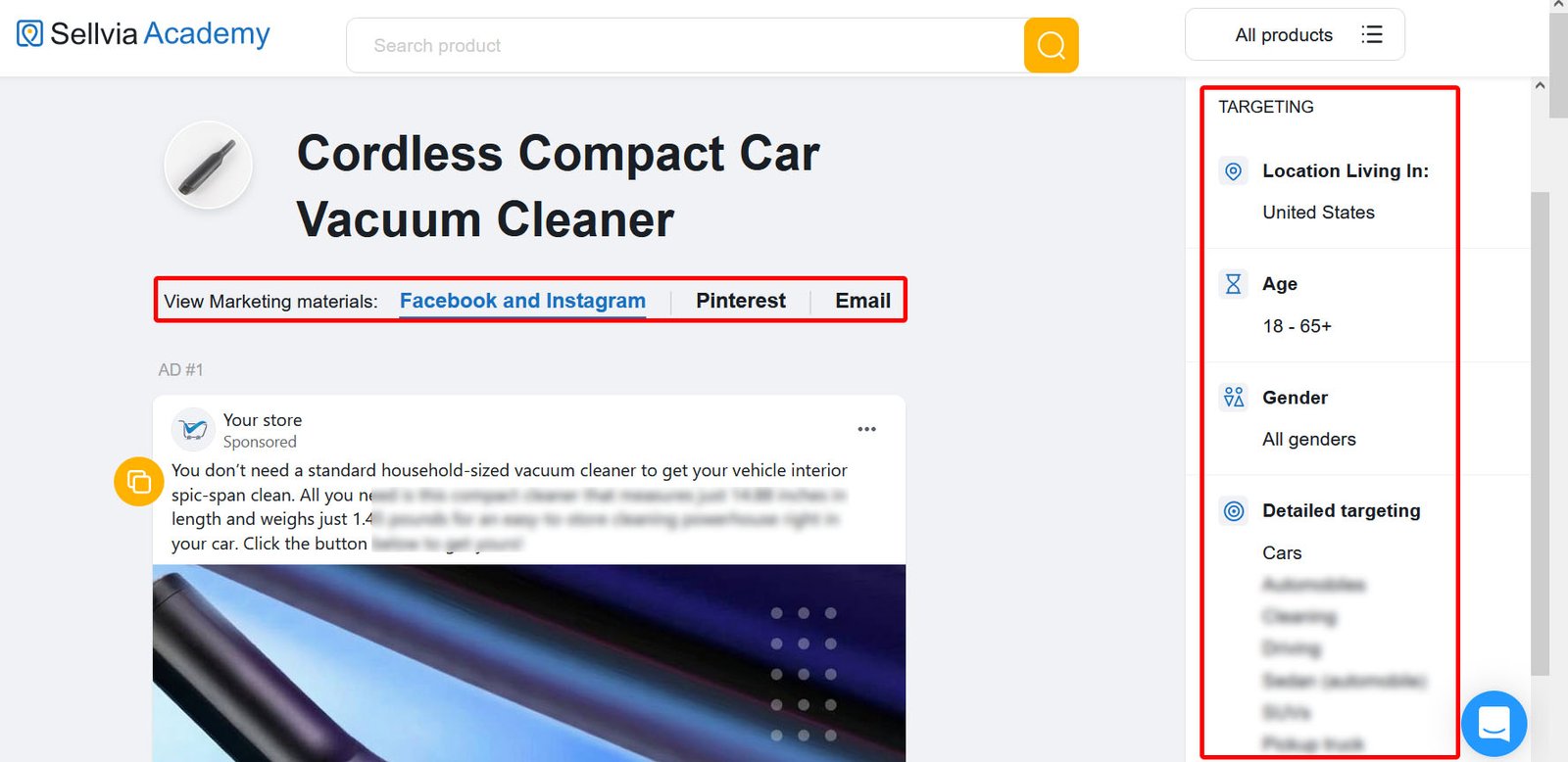 When you import products from salvia into your dropshipping store, you will get a highly profitable marketing campaign that includes videos, banners, and ad copy on Facebook and Instagram. Finally, you must copy a promo campaign, launch your Facebook and Instagram ads, and earn big.
#9. Automation Tools
Sellvia provides automation tools that enable you to automate certain aspects of your eCommerce business. Order placement is the most popular automation it provides. Sellvia automatically forwards any order placed by a customer on your website to their fulfillment center to fulfill the order.
You'll also find much other automation on Sellvia.
#10.Refunds and Returns are Allowed
Dropshipping has its downsides. As a shop owner, you can't guarantee the quality of the products that your supplier ships your customers.
There are always refunds and returns. In such cases, potential customers may look elsewhere.
Aliexpress, for example, has a complex return and refund procedure. It is best to trust your supplier to protect your brand.
Sellvia provides a simple return and refund process.
This company is reliable and can keep your brand trustworthy.
Sellvia Pricing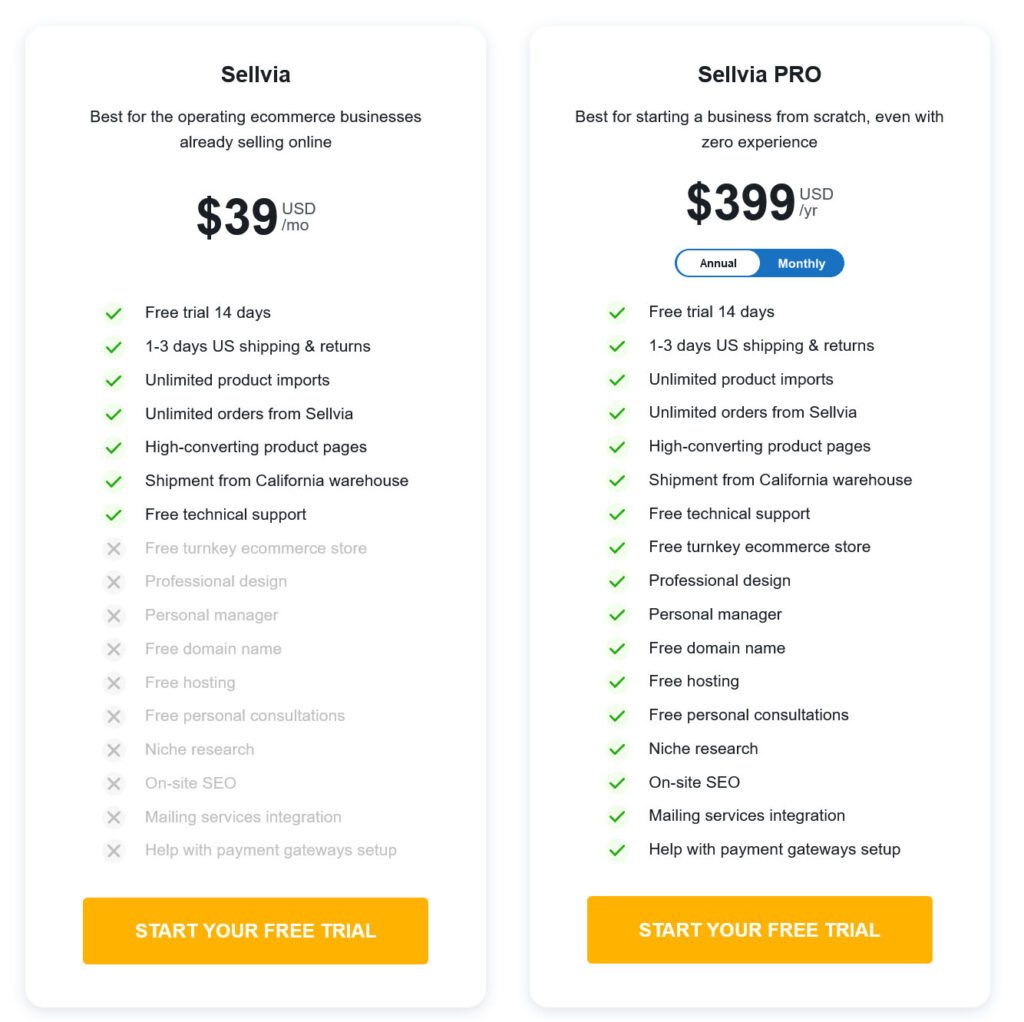 Sellvia Review
You can start the Sellvia offer with a 14-day trial of their software, and then you can choose their monthly plan for $39/month.
The annual plan costs $399, and you can save $78
This package is for people who don't want stress. This package includes everything you need to succeed on the platform.
You can even have your store built free of cost by taking advantage of the two-week trial included with the custom store package.
You will also receive a store manager to send an email when you need clarification.
Sellvia Review: What I Love About It
These are just a few of the many things that Sellvia has to offer:
#1.Reduced Risks
Dropshipping is less risky because you don't have to stock products or buy in bulk. Instead, an intermediary fulfills your orders.
Poor branding is one of the biggest risks. You are also at the mercy of your suppliers.
Your business will not be able to withstand the test of time if a supplier fulfills your orders using low-quality products.
This is one of many risks dropshippers are exposed to. Sellvia has a unique solution.
Sellvia partners with its suppliers and vets them.
They purchase the products in bulk and store them. This lowers the chance of running out of stock and decreases the risk of dealing with poor suppliers.
Statistics show that 80% of dropshippers find the first stage of finding suppliers to be the most difficult part of dropshipping.
Sellvia takes the work out of searching and finding information.
Sellvia is the only company you'll be dealing with. They only work with trusted and tested suppliers when sourcing products.
#2.

Affordable Good Quality Product

You'll be able to get high-quality products by not dealing with suppliers directly.

Sellvia ensures that they only stock high-quality products before filling their warehouse.

Most people believe that AliExpress is the best place to find affordable wholesale products. But, with Sellvia, you will be wrong.

The image below shows a wholesale product from AliExpress. It costs $28.65 and can also be shipped from the United States.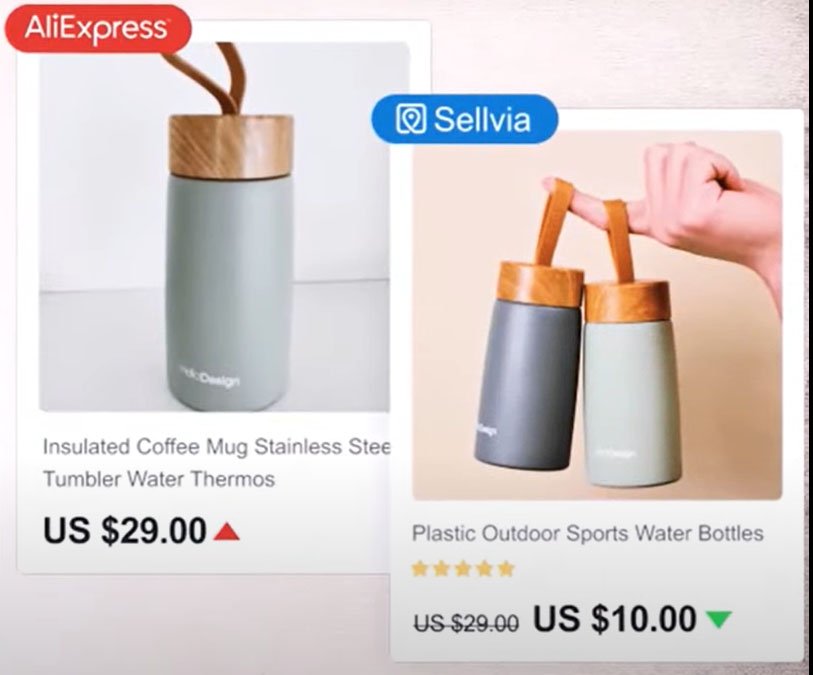 Sellvia Review
#3. Top-Notch Packaging
Sellvia provides top-quality packaging for the products it ships to customers.
They will do a great job with packaging. Sellvia does not include your name on the packaging or the product. The packaging is simple, clean, and attractive.
#4. Free Courses
Another reason Sellvia is a unique platform is that its subscription includes access to its premium dropshipping classes.
Dropshipping courses can cost more than a thousand dollars. Sellvia is a great place to start dropshipping. The courses are not required.
Sellvia Cons – Its Limitations
Sellvia has its limitations. There are also some areas where it is lacking.
#1. Doesn't Support Global Delivery
It is positive that Sellvia ships products faster across the US, but it is also a disadvantage that it does not support global shipping.
Sellvia may not be right for you if your business is a global dropshipping company.
You can also use Sellvia to assist your US-based customers and Aliexpress in shipping any other global solution.
#2. You Don't Have Direct Access to Suppliers
Direct access to suppliers could be a benefit or a disadvantage.
This is a disadvantage because you cannot negotiate a lower price even though the item is already cheap.
You might also be able to negotiate with suppliers to get your dropshipping up a notch by having your name printed on product packaging materials.
These are the drawbacks of not allowing suppliers direct access, but I would not give it much weight since it is a way to protect store owners.
#3. Limited Available Products
It doesn't matter how many products Sellvia claims it has; it cannot be as many as Aliexpress.
You might feel limited by Aliexpress's smaller product selection than Aliexpress.
Sellvia claims it only offers the best-selling products. In that situation, you can trust Sellvia's lead.
Sellvia Review: FAQs
Let's look at some of the most frequently asked questions on Sellvia.
Can I use Sellvia with Shopify?
You can't currently use Sellvia with Shopify at the moment. They are still working on it.
You will need to use Sellvia with Shopify alongside Alidropship to make use of it.
Is Sellvia legal?
Sellvia is a trusted platform for dropshippers as well as e-commerce store owners.
What is the cost of Sellvia?
The Sellvia monthly plan costs $39/month and includes unlimited product imports, orders from the Sellvia catalog, and 1-3 day US shipping.
The Yearly Plan costs $399 per year. It includes free shipping to the USA for 1-3 days, unlimited product imports, and orders from Sellvia.
How can I cancel my Sellvia subscription?
You can cancel your Sellvia subscription at any time by contacting support@sellvia.com.
Conclusion
You should consider sellvia if you want to dropship in the USA with a steady revenue stream and a great customer experience.
It is a wonderful experience that I have had personally.